Malacologica Bohemoslovaca

eISSN 1336-6939
---
Homepage | Contributions by volumes | Search | Instructions to authors | Editorial Board
---
Malacologica Bohemoslovaca Vol. 3 (2005)
Preface to the Volume 3
The third volume was printed at July 2005 to the 80th birthday of great Czech malacologist Vojen Ložek. On-line version was posted later in 2011–2012.
Journal is published by Charles University in Prague, Viničná 7, Prague 2, for printing was prepared by Lucie Juřičková.

Contents
26. 7. 2005
2005: Copyright page, title page, foreword and contents. – Malacologica Bohemoslovaca, 3: 0–4.
26. 7. 2005
Kovanda J., 2005: Kompletní bibliografie RNDr. Vojena Ložka DrSc. (k osmdesátým narozeninám 26. července 2005) [The complete bibliography of RNDr. Vojen Ložek DrSc.]. – Malacologica Bohemoslovaca, 3: 5–46. https://doi.org/10.5817/MaB2005-3-5
26. 7. 2005
Kučera T., 2005: Koncept ekologických fenoménů v interpretaci středoevropské vegetace [Ecological phenomena concept: the interpretation of the Central-European vegetation]. – Malacologica Bohemoslovaca, 3: 47–77. https://doi.org/10.5817/MaB2005-3-47
26. 7. 2005
Beran L., 2005: Vodní měkkýši Labe mezi Pardubicemi a Hřenskem [Aquatic molluscs of the Elbe River between Pardubice and Hřensko (Czech Republic)]. – Malacologica Bohemoslovaca, 3: 78–88. https://doi.org/10.5817/MaB2005-3-78
26. 7. 2005
Horsák M., 2005: Fenomén prameništních slatinišť a malakologické konsekvence [The uniqueness of spring fens and malacological consequences]. – Malacologica Bohemoslovaca, 3: 89–99. https://doi.org/10.5817/MaB2005-3-89
26. 7. 2005
Juřičková L., 2005: Měkkýši (Mollusca) hradů jako ekologického fenoménu (Česká republika) [Molluscs (Mollusca) of castles as an ecological phenomenon (Czech Republic)]. – Malacologica Bohemoslovaca, 3: 100–148. https://doi.org/10.5817/MaB2005-3-100
26. 7. 2005
Kovanda J., Horáček I. & Symonová R., 2005: Pátek, Levousy a Chlumčany – významné fosiliferní středopleistocénní lokality na pravém břehu Ohře mezi Louny a Libochovicemi [Pátek, Levousy and Chlumčany – important mid-pleistocene localities on the right bank of the Ohře River between Louny and Libochovice]. – Malacologica Bohemoslovaca, 3: 149–172. https://doi.org/10.5817/MaB2005-3-149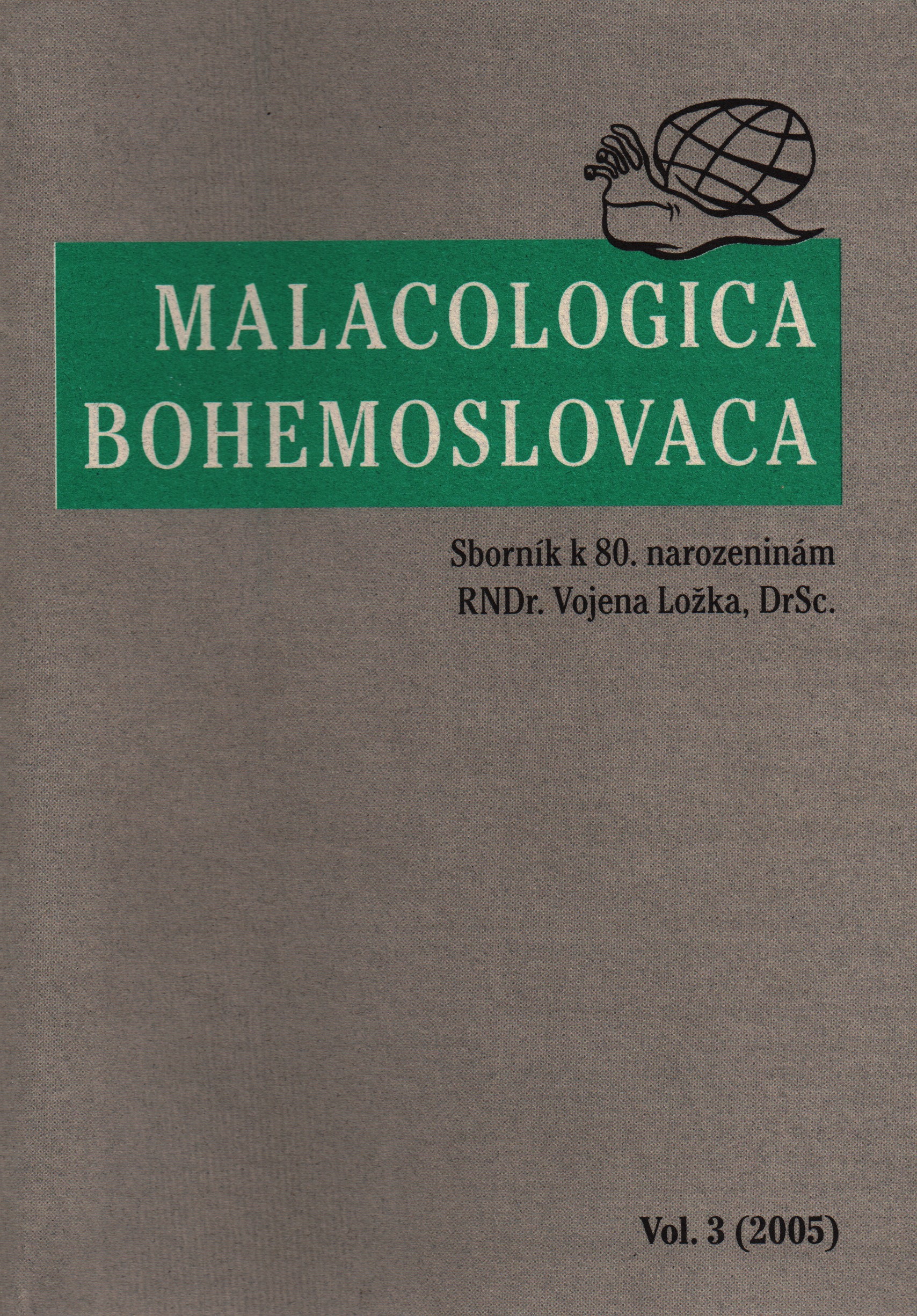 cover


---
Copyright © 2005 Published by Department of Botany and Zoology, Faculty of Science, Masaryk University
Updated:
---